Best Homeopathy Doctor in Chinchwad
At our clinic, we take pride in being the best homeopathy doctors in Chinchwad. We understand the importance of healing our patients in the shortest possible time, especially in this modern age where time is the most precious commodity. With our unique approach, we aim to relieve patients of their suffering from the core while maintaining the efficacy of homeopathy.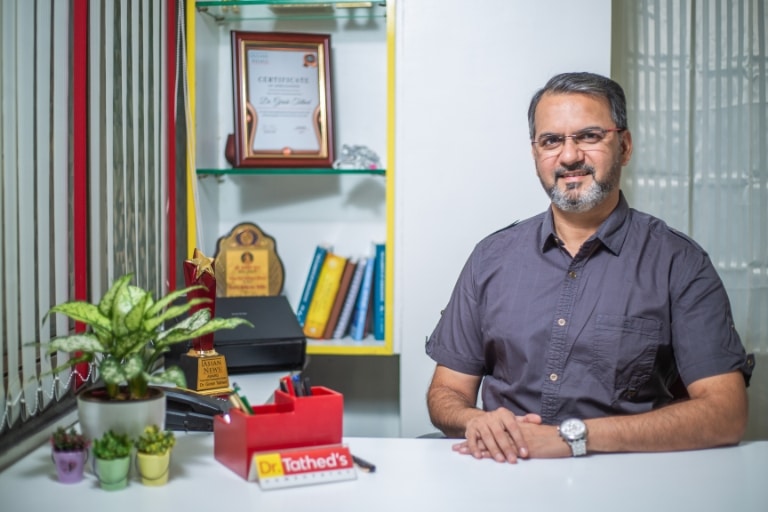 Dr. Tathed's Homeopathy - Best Homeopathy Doctor in Chinchwad
Dr. Tathed's Homeopathy Clinic, located in Pimpri Chinchwad, Pune, is committed to incorporating homeopathy as an effective and scientific system of medication. Our foundation provides comprehensive healthcare techniques that make homeopathy a trusted source of healing for the masses.
Dr. Girish Tathed, along with his dedicated team, aspires to position homeopathy as a rightful and integral part of the healthcare system while remaining open to all other systems of treating health problems.
Homeopathy: A Holistic Approach to Healing
Homeopathic medicine is renowned for its ability to provide relief in both acute and chronic illnesses. Whether you're dealing with fever, diarrhea, cold, cough, or child health problems related to memory, growth, and immunity, homeopathy offers quick and effective solutions. It also proves beneficial in addressing women's health issues such as PCOD, PMS, and menopause.
Additionally, homeopathy works wonders for hair loss, thyroid problems, obesity, and chronic cases of skin disorders, arthritis, asthma, and diabetes. However, it's important to note that homeopathy is not suitable for emergencies that require immediate medical attention or surgical intervention.
Providing Effective and Efficient Solutions for Hair, Skin Problems, Thyroid, and Other Ailments
Neurodevelopmental condition impacting social communication, behavior, and sensory processing.
Erectile Dysfunction, The inability of men to achieve or maintain an erection sufficient for sexual intercourse.
Skin disorder causing patches of depigmentation, resulting in varying skin coloration.
Common mental health challenges causing persistent worry, tension, and emotional strain.
Chronic respiratory condition causing airway inflammation, leading to breathing difficulties, wheezing, and coughing. 
Various conditions affecting the skin, such as eczema, psoriasis, acne, skin rash, and dermatitis. 
Best Homeopathy doctor in Chinchwad
Why Choose Dr. Tathed's Homeopathy Clinic?
Individualized Treatment Approach
At our centre, we understand that every patient is unique and requires personalised care. We take the time to listen to your concerns, thoroughly analyse your symptoms, and develop a treatment plan tailored to your specific needs. Our approach ensures that you receive the most effective and appropriate homeopathic remedies.
Emphasis on Holistic Healing
The goal of our homeopathic treatment is to encourage your body to return to a natural state of balance and health. We believe in addressing the root causes of your ailments rather than merely suppressing symptoms. By considering your physical, mental, and emotional well-being, we aim to achieve long-lasting and holistic healing.
Extensive Expertise and Experience
With years of experience in the field of homeopathy, Dr. Girish Tathed has successfully treated a wide range of patients with various ailments. His expertise and in-depth knowledge allow him to provide comprehensive and effective solutions. When you choose our clinic, you can rest assured that you are in capable hands.
Best Homeopathy doctor in Chinchwad
Our Patient's Says About Us ?