ADHD (Attention Deficit Hyperactivity Disorder)
ADHD Treatment In Homeopathy
ADHD is a neurodevelopmental disorder characterized by persistent patterns of inattention, hyperactivity, and impulsivity. It commonly starts in childhood and can continue into adulthood, impacting various aspects of an individual's life, including academic performance, relationships, and overall well-being.
There are three subtypes of ADHD:
Predominantly inattentive: The majority of symptoms fall under inattention.
Predominantly hyperactive/impulsive: The majority of symptoms are hyperactive and impulsive.
Combined: This is a mix of inattentive symptoms and hyperactive/impulsive symptoms.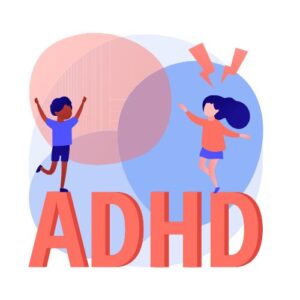 Children with ADHD may exhibit the following symptoms:
Fail to pay close attention to details or make careless mistakes in schoolwork.
Have trouble staying focused on tasks or play.
Appear not to listen, even when spoken to directly.
Have difficulty following through on instructions.
Struggle with organizing tasks and activities.
Avoid or dislike tasks that require focused mental effort, such as homework.
Frequently lose items needed for tasks or activities.
Easily distracted by external stimuli.
Hyperactivity and impulsivity can also be present, and the child may:
Interrupt others' conversations, games, or activities.
Fidget with or tap their hands or feet, or squirm in their seat.
Have difficulty staying seated in the classroom.
Be constantly on the go, in constant motion.
Run around or climb in situations when it's not appropriate.
Have trouble playing or engaging in activities quietly.
Talk excessively.
Blurt out answers, interrupting the questioner.
Have difficulty waiting for their turn.
The exact causes of ADHD are still being studied, but several factors have been identified as potential contributors:
Genetics: ADHD tends to run in families, suggesting a genetic component.
Family history: Having blood relatives with ADHD or other mental health disorders may increase the risk.
Environmental toxins: Exposure to environmental toxins, such as lead found in older buildings, may play a role.
Maternal factors: Maternal drug use, alcohol consumption, or smoking during pregnancy may increase the likelihood of ADHD in offspring.
ADHD can be caused due to separation conflict experienced as a loss of physical contact either by mother during pregnancy or by child.
Newborns suffer the conflict when they are separated from the mother at birth (put in an incubator, given up for adoption).
Children also experience separation conflicts when they are scolded, punished or abused, when a new sibling is born who gets more attention, when the parents split up, when they are not allowed to see their friends, when they have to separate from a favorite toy or pet they like to cuddle; also, when the mother goes back to work, when they are put into daycare, kindergarten or to relatives, or when they are left with a sitter or nanny.
Homeopathic Approach to ADHD
Homeopathy shows marvelous results in cases of ADHD. Homeopathy acts on whole body , improves child's both mental and physical health. Homeopathic medicines are safe for children and don't produce any side effect. Homeopathic medicines improve child's attention, reduces their hyperactivity make them more calm and obedient. Such children can attend classes, focus on studies like normal child.
The homeopathic approach to ADHD focuses on:
Improving overall mental and physical health.
Reducing hyperactivity and impulsivity.
Enhancing attention and focus.
Promoting calmness and obedience.
Homeopathic Medicines for ADHD
Here are some commonly used homeopathic medicines for treating ADHD:
ADHD can significantly impact a person's life, affecting their ability to concentrate, manage tasks, and maintain healthy relationships. While conventional treatments are widely used, homeopathy offers a holistic approach to address the underlying imbalances and support overall well-being. With its individualized approach and safe nature, homeopathy can be a valuable adjunct to traditional treatment methods for individuals with ADHD.
homeopathy offers a holistic and individualized approach to the treatment of ADHD. By addressing the underlying imbalances and promoting overall well-being, homeopathic medicines can help individuals with ADHD improve their attention, reduce hyperactivity, and lead fulfilling lives. Consultation with a qualified homeopathic practitioner is recommended to determine the most suitable treatment plan for each individual.
Case Study & Patient Testimonial on ADHD & Autism
This case study and patient testimonial delves into the intertwined worlds of ADHD (Attention-Deficit/Hyperactivity Disorder) and Autism Spectrum Disorder. Showcasing a compelling journey through diagnosis, treatment, and management, the narrative provides insights from both patients and experts. Discover firsthand accounts from individuals living with these conditions and explore their paths to wellness and acceptance. The invaluable insights gained from this testimonial could potentially illuminate the path for others traversing similar journeys.
Frequently Asked Questions (FAQs)
* Note – Above medicines are for knowledge purpose only. Take the medication only after doctor's consultation. Do not self medicate