A deviated septum occurs when the thin wall (nasal septum) between your nasal passages is displaced to one side.
In many people, the nasal septum is off-center or deviated-making one nasal passage smaller.
When a deviated septum is severe it can block one side of your nose and reduce airflow, causing difficulty in breathing.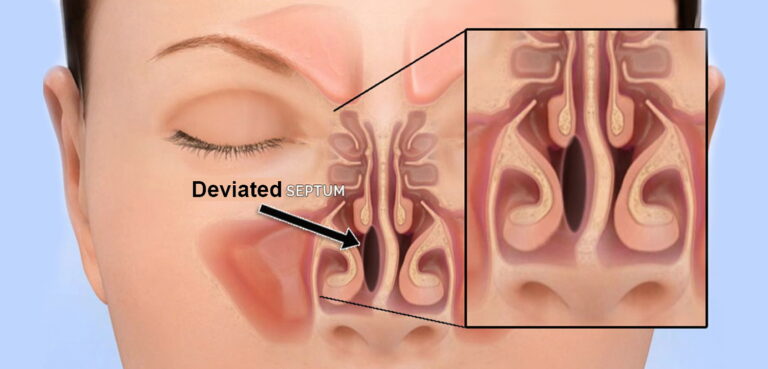 Obstruction of one or both nostrils-cold or allergies that can cause your nasal passages to swell and narrow.
Nosebleeds -The surface of your nasal septum may become dry and increase the risk of nosebleeds.
Facial pain- one-sided facial pain could be a severely deviated septum in which surfaces within the nose touch and cause pressure.
Snoring -swelling of intranasal tissues
Obstruction of alternate nostrils
Sleeping on a particular side of the nasal passage is narrowed.
Condition present at birth -during fetal development and is apparent at birth.
Injury/ Trauma to nose -during childbirth, accidents, trauma to the nose during sports, rough play such as wrestling, or automobile accidents.
Frequent upper respiratory tract infection : Swelling and irritation of the nasal cavities or sinus cavities also can further narrow the nasal passage from a deviated septum.
Homeopathy has a great & valuable role in treating the effects of Deviated Nasal Septum by enhancing or improving one's Immune Power.
Also, homeopathy can help to avoid surgeries.
As per the latest research in homeopathy, DNS may be caused by a 'SCENT CONFLICT' which means smelling trouble or potential threat for instance "smelling a competitor or an opponent at work, at school or in a relationship.
Feelings like : 'This stinks' or "I am fed up with this".
Homoeopathic Medications :
Arsenicum Album : Coryza with thin watery excoriating discharges. Burning and bleeding from the nose.
Kali IOD : Profuse watery, acrid coryza, with pain in the frontal sinus.
Silicea : Itching at the point of the nose fluent. Dry Hard crusts form. Perforation of the septum. Great sensitiveness to take cold, nasal bones sensitive.
* Note – Above medicines are for knowledge purpose only. Take the medication only after doctor's consultation. Do not self medicate
For appointment please call @ 020 27455480 / +91 9405 435 981