Homeopathic Treatment for Fibromyalgia
Are you seeking a natural and holistic approach to manage fibromyalgia? Look no further than homeopathic treatment. As an experienced homeopathy doctor with over 25 years of practice, I am here to shed light on how homeopathy can offer relief and improve the quality of life for individuals living with fibromyalgia. Lets explore the nature of fibromyalgia, its symptoms, and delve into the effectiveness of homeopathic remedies in addressing this chronic condition.
What is Fibromyalgia?
Fibromyalgia is a chronic disorder characterized by widespread musculoskeletal pain, fatigue, and tenderness in specific areas of the body. It is often accompanied by sleep disturbances, mood changes, and cognitive difficulties. While the exact cause of fibromyalgia is unknown, researchers believe that factors such as genetics, infections, and physical or emotional trauma may contribute to its development.
Common Symptoms of Fibromyalgia
People living with fibromyalgia experience a range of symptoms that can significantly impact their daily lives. These symptoms include:
Widespread pain throughout the body
Fatigue and exhaustion
Sleep disturbances, such as insomnia or restless leg syndrome
Stiffness and muscle cramps
Cognitive difficulties, commonly referred to as "fibro fog"
Headaches and migraines
Digestive problems, such as irritable bowel syndrome (IBS)
Sensitivity to temperature, light, and noise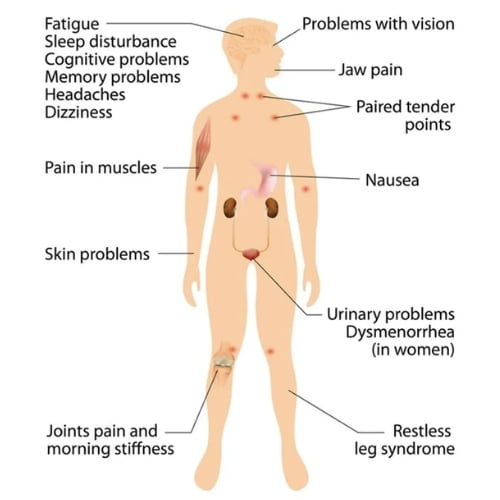 Conventional Approaches to Fibromyalgia
In conventional medicine, the management of fibromyalgia often involves the use of pain relievers, antidepressants, and sleep aids. While these approaches may provide temporary relief, they often come with side effects and do not address the underlying causes of the condition. This is where homeopathy can make a significant difference.
The Principles of Homeopathy
Homeopathy is a holistic system of medicine that aims to stimulate the body's natural healing ability. It is based on the principle of "like cures like," which means that a substance that can cause symptoms in a healthy person can be used to treat similar symptoms in an individual with an illness. Homeopathic remedies are highly diluted substances derived from plants, minerals.
Homeopathic Remedies for Fibromyalgia
In homeopathy, the treatment of fibromyalgia is individualized, taking into account the unique symptoms and characteristics of each person. Some commonly used remedies for fibromyalgia include:
Lifestyle Modifications for Fibromyalgia
In addition to homeopathic treatment, certain lifestyle modifications can support the management of fibromyalgia. These include:
Seeking Professional Guidance
While homeopathy offers a safe and effective approach to managing fibromyalgia, it is crucial to consult with a qualified homeopathy doctor. They will conduct a thorough examination, assess your symptoms, and provide personalized treatment based on your individual needs.
The Benefits of Homeopathy for Fibromyalgia
Homeopathy offers several benefits for individuals with fibromyalgia. These include:
FAQs (Frequently Asked Questions)
In conclusion, homeopathic treatment offers a unique and holistic approach to managing fibromyalgia. By addressing the physical, emotional, and mental aspects of the condition, homeopathy aims to alleviate symptoms, improve overall well-being, and restore balance within the body. If you're seeking a natural and personalized approach to fibromyalgia treatment, consider exploring the benefits of homeopathy with a qualified practitioner.
* Note – Above medicines are for knowledge purpose only. Take the medication only after doctor's consultation. Do not self medicate